Paint Protection
It is the first thing you see when you go to get in your car. It is the last thing you see when you leave your car. It is the most expensive part of the car. Most importantly, it was the single largest
factor you used to select your car. Make, model, mileage and motor all take a back seat when it comes to the quality and color of the finish. As demanding consumers we buy with our eyes. So how do we protect and maintain the incredible colors and high gloss of today's vehicle paints? There is no shortage of waxes, polishes and sealants on the market today vying for your attention and your dollars. This includes the newer state of the art coatings and nanoceramics that are gaining popularity. Choosing from them all can be a bigger job than actually doing the work. But maintaining that "right off the
showroom floor look" doesn't have to be difficult or confusing. At A Auto Detail Service we can offer you a variety of choices in this area. Like most of our services, this is based on what results you are trying to achieve, your expectations, and of course your budget and how much you're willing to spend to protect your investment.
Most people don't realize the expense of a top quality paint job! Vehicle manufacturers are now very confident in the fact that new car buyers make a purchase with their eyes and heart, not their head. This explains why fully three quarters of the cost involved in building a car plant is put into the painting system. Carmakers want you to be delighted with the look of your car. They have worked very hard to perfect the gleaming finish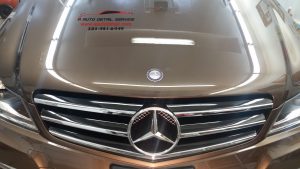 on your vehicle. Simply put, they know that happy customers make more happy customers. So just for some perspective, replacing a factory paint job at any of the body shops we use is easily going to start at $3500 just for the average vehicle! We are not talking about high end cars, show cars, or custom cars. This is quite often more than the replacement of the engine itself! Obviously a good reason to put some of the same effort you put in basic engine maintenance into paint maintenance. Again obviously the vehicle will run even if the paint looks bad, but considering the cost of today's vehicles and the amount of research the major manufacturers have put into knowing what buyers look for, it only makes
sense to put some significant effort into protecting this aspect of your investment.
Your choice of protection may require some level of paint correction before we proceed. Please visit our Paint Correction link to better understand what that may entail. You are always welcome to call for a free estimate over the phone, or to schedule a time to come by so we can evaluate it firsthand.
At A Auto Detail Service, all vehicles receiving any level of paint protection will first be carefully hand washed. We will also want to make sure we remove any larger debris such as sap or tar, etc… There may be an additional charge if there is extensive debris on the vehicle, but this helps to ensure a clean surface to work on as well as ensure we don't have anything get caught in the applicator that could damage the finish. If any paint correction is required, we will also do clay bar treatment to remove any fall out, overspray or contaminants on the finish.
We can now select a protection that best fits what you're trying to achieve. We are still using a couple of premium carnauba waxes, although with some of the advances in nanotechnology in the other products we offer, I don't know for how long. Wax provides a line of defense between your vehicles finish and the
multitude of elements Colorado throws at it, but just like taking a piece of wax or a candle and rolling it on a surface…it also attracts dirt. So my recommendation is going to always be one of our Ceramic Coating products, unless we are simply getting the vehicle ready for sale.
Please take a moment later to visit the Ceramic Pro or SB3 Coatings link.
The amount of protection with each product goes like this-
1. Wax- 3-7 months *
2. SB3 Flyover- 6-9 months*
3. Ceramic Pro Sport (Our Sealant)- 6-12 months*
4. SB3 Omega- 2 year*
5. Ceramic Pro Bronze Package- 2 year*
6. SB3 Alpha- 4 year*
7. Ceramic Pro Silver Package- 5 year (Transferable)*
8. Ceramic Pro Gold Package- Lifetime (Transferable)*
9. Ceramic Pro Platinum Package- Lifetime (Transferable)*
Free Estimates are available by phone.
Starting prices are available on the Pricing link for 1 and 2.
Starting price for packages is on the Ceramic Pro or SB3 Coatings link.
*(Disclaimer- These time results will always depend on how AND how often you wash your vehicle as well as what type of whether it is exposed to. Maintenance is always recommended, but it is required on the 5 year and Lifetime Warranties)