WHAT IS DETAILING?
Unfortunately there is no standard of quality set, no special qualifications, no certification, training or special licensing required to be a detailer. Anyone with a buffer and vacuum can call themselves a detailer. Training, product knowledge and quality standards are up to each individual business owner. Unfortunately for you, most shops just pull some young kid making minimum wage off the car wash line, stick a buffer in his hands and tell him to detail your vehicle. At A Auto Detail Service, Owner Mark Mueller, a Master Detailer and expert craftsman, with 40+ years of professional experience, either does or oversees every aspect of the shops many services. All of which are Satisfaction Guaranteed.
We have 4 different full detail packages. Basic, Complete, Premium and VIP. The only difference in these packages is what we will do on the exterior.
We also have 6 Ceramic coating packages for the exterior to choose from if you want to take the protection of your exterior and paint to the next level. Those are on the Ceramic Pro and SB3 links.
Obviously, there are several al a carte things we offer either that you may be in need of or that you are simply interested in. Those are on the Restoration link
All of A Auto Detail Service's detail packages begin with the ENGINE compartment. A basic engine detail begins with a degreasing agent and then pressure washing all the dust, dirt, grease and grime away from all the surfaces. Next, a water base, non-greasy, dressing is applied to all the rubber and plastic parts to make them look like new. The dressing will be applied unless you request for this procedure not to be done. A basic engine detail is included free of charge with any interior and exterior detail package. Some people prefer to not have their engines cleaned with high pressure water. We always check with you before we do the engine, but the price does not change since it was offered free of charge initially. We do offer a hand cleaning method at an additional charge. Price will be based on condition.
We also offer extensive, custom, restoration and Ceramic Pro engine detailing. Free estimate available.
After cleaning the engine we clean and dress Tires, clean Wheels and Wheel wells. A Auto Detail uses special cleaners to accommodate all types of wheel surfaces so as not to damage the many types of different materials.
We can also apply Ceramic Pro Wheel and Caliper to the wheels as well as painted or custom calipers that not only makes them easier to clean, but offers the best protection from the costly and irreversible spotting from Magnesium Choride. This is an additional service and an additional cost.

Next, we Hand Wash the Exterior of the vehicle. During this process we clean the door and trunk jambs, the moldings, and weather-stripping. (All Complete and above packages include a light clay bar treatment to remove any contaminates, minor overspray, fall out to allow a properly prepared surface for paint correction and protection.) Iron X can be added at an additional charge to remove rail dust and iron contaminating particles.

Now the Magic begins. Starting with your INTERIOR. At A Auto Detail we only do interiors one way…the right way! We are meticulous in this area as to not damage any materials or electronics! This is important because of the amount of water some other shops may use can get into areas that may cause your vehicle problems long after it has left the detail bay. Alot of other shops Charge You Less and pay their help a lot less on Interiors because they can be blasted with water and dressings, vacuumed and wiped down and they are done in short order and less time. We feel that with all the dirt and mud from the harsh Colorado Seasons, that this aspect of the vehicle is at least as important as the Exterior to our customers because that's where You ride. Besides, we wouldn't want all that water and silicone in our cars! We want to treat your vehicle the same as we do our own. We think this is worth a little more. We also do not use any fragrances unless requested (see Odor Elimination ) because they can affect allergies and/or be offensive to some people . We prefer to leave your car smelling fresh and clean.

First we carefully clean the headliner, posts, visors, vanity mirrors and seat belt holders. This includes displays, video screens and other electronics.

Next we Vacuum, then Shampoo AND Fresh Water Extract (This removes soap residue and dirty water and will leave it less stiff or sticky. It will also attract less dirt in the future) all fabric seats, door panels, carpets and mats . Then all the plastic and vinyl is cleaned (ALL Leather is cleaned using a Non-Alkaline, pH Balanced Cleaner).

Finally the Dashboard, Instrument panel (Note: as little water and cleaners as possible is used in this process) screen, audio components, gauges, air vents, ashtrays, cup holders, cubby holes and console. Glove box and all other compartments are always cleaned as long as they are empty. Trunk is always vacuumed and wiped down if empty. (Heavily soiled trunk areas may require additional work sometimes at an additional charge.) Interior Windows.
Note: dressings are only applied to plastic and vinyl upon request because the silicones can and will damage those materials. We use only Non Alkaline, Silicone Free, pH Balanced conditioners on ALL Leather.
The final area of concentration is the EXTERIOR. This is where we "Shine". Ha Ha. A Auto Detail Service owner Mark Mueller is known as "The Buff Specialists". He is a Certified Master Detailer and has been detailing professionally since 1979. He personally does or makes the decisions on what needs to be done to each vehicle on an individual basis to achieve Your desired result based on your expectations, what you're trying to achieve and of course your budget or how much you're willing to spend.
We At A Auto Detail offer 4 different detail packages, and the only difference in the packages is what we offer on the exterior paint correction.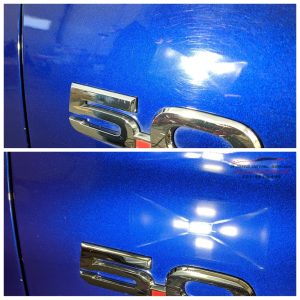 Then you can chose from a variety of paint protection options including Ceramic Coatings.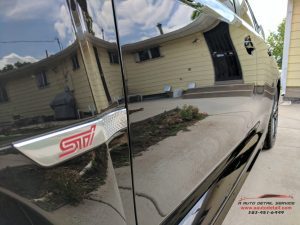 Be mindful that sometimes there is excessive road oil, tar, tree sap and even paint overspray or fall out that has to be removed first and may require an additional charge. Also you are more than welcome to choose any package you would like, but there may be scratches or defects that require a more aggressive paint correction to achieve the desired result. We will always discuss this process with you and give you a quote on any additional or specialty services you may require.

Before After
ALWAYS REMEMBER that we at A Auto Detail Service are here to serve Your needs!! You can have as much or as little done as you want. We will make suggestions Only, and let You choose the package that works best for you and your budget.
Basic– Wash Engine, Clean Wheels and Wheel Wells, Hand Wash, Interior, Carnauba Wax or Spray Sealant (3-6 month protection)
*Recommended for cars that get the exterior regularly detailed every 2-3 months. This package is not recommended for vehicles that have been neglected or are excessively dirty.
Complete- Basic Package+, Light Clay Bar, 1 Step Paint Correction (20% light scratch and swirl removal)
*Recommended for those who want an enhanced gloss on their paint finish. Those who detail the exterior of their car every 6-12 months. This package is what we and most others would consider as a full interior and exterior detail. We recommend this being done in the spring to keep things looking good for the summer and again in the fall to protect it from our harsh Colorado winters. This is what we talk about when we refer to maintenance.
Premium- Basic Package+, Light Clay Bar, 2 Step Paint Correction (50-60% medium scratch & swirl removal)
*Recommended for the automobile enthusiast that demands a complete and extensive exterior detailing service. We highly recommend this service for dark colored vehicles as they tend to show flaws and defects much more clearly.
You can add Iron X (Rail Dust Remover) and/or longer lasting sealants to any package at an additional charge.
V.I.P.- Basic Package+, Light Clay Bar, Multi-Step Paint Correction (Up To 90% heavy scratch & swirl removal)
*Recommended for those who want absolutely the very best exterior finish possible!
ADD- Iron X, touch up paint, license plate removal, headlight restoration (at an additional charge) to any package to take your vehicle to the next level.
ADD- Ceramic Pro Sport, SB3 Flyover or any Ceramic Pro or SB3 Coating package (at an additional charge) for the ultimate depth, clarity, gloss and lasting protection.
· A Auto Detail also has several other services for your vehicle and your complete cosmeticRestoration needs. Including Ceramic Pro Protective Coatings, SB3 Protective Coatings, Coating Professional Chip and Scratch Repair, Leather, Vinyl, Plastic and Fabric Repair , Hard Water Spot Removal From Glass, Wet Sanding, Carpet Dyeing, Fallout and Paint Overspray Removal, Odor Elimination, Paintless Dent Removal, 3M Clear Bras and Window Tinting, Leather, Vinyl and Fabric Repair, Tape Pin Stripping and Molding Replacement