RESTORATION
At A Auto Detail Service Restoration takes detailing to the next level. In the detailing sense, it means taking your vehicle as is and returning it to as close to new as possible without major body work, repainting, new carpet or upholstery and at a fraction of the cost. Here are some of the restoration services we offer.
Ceramic Pro products

are revolutionizing the car care industry. While others only offer waxes or sealants to protect car surfaces that will eventually ware

off, Ceramic Pro offers a permanent protection for paint, alloy wheels, glass, rubber, plastic and leather and is applicable to all surfaces in the car industry. Today, Ceramic Pro is trusted by top detailing and car care professionals around the world. A Auto

Detail is a Ceramic Pro certified installer.
SB3 products are also revolutionizing the car care industry. While others only offer waxes or sealants to protect car surfaces that will eventually ware off, SB3 offers a permanent protection for paint, alloy wheels, glass, rubber and plastic and is applicable to all surfaces in the car industry. Today, SB3 is trusted by top detailing and car care professionals and is moving around the world.

A Auto Detail is a SB3

certified installer.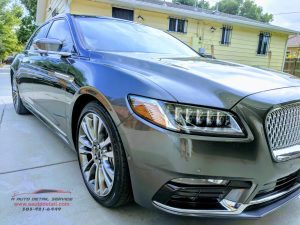 Professional Chip and Scratch Repair is a process we use to fill in or remove deep scratches or chips. If we are unable to remove it, we touch-up the spot by using a special new technology that puts the paint in the chip or scratch only, without any excess around the edges, leaving a clean repair, at about one third

the price of auto body repair. It is not glopped on like most touch-up paint jobs you see. This is a great way to maintain any paint

surface without repainting

,

or simply fix it to prepare for sale or trade in.
Headlight Restoration is the process of restoring the plastic lenses on your headlights, or any of your vehicles

exterior lights. This includes scratched, oxidized, peeling, yellowing, dull or fogged lenses. This is not some household remedy. Sometimes they can be dealt with by a machine polishing process, while others will require a step down

sanding process first. Which process we use will depend on the extent of damage

.

A Auto Detail will then seal the lens and guarantee it for 1 year.

Red Dye Removal is a very unique

process. Dyes from various drink or foods etc… are often next to impossible to remove. At A Auto Detail

we have a proprietary process of doing just that without dyeing. This is not 100% successful. In those cases

we can offer the dyeing option.

We also offer specialized removal of other difficult substances like ink, rust, crayon, gum, oil, tannin (coffee & tea) etc…

Paint Correction is the process of how we correct your paint…actually your clear coat or tint coat from oxidation, scratches, scuffs, scrapes, flaws, defects and marring from any number of things such as bird droppings, sap or bugs, swirl marks, car washes, something rubbing against it, hard water spots, acid rain, sodium and magnesium chloride and UV etc… This is sometimes referred to as buffing or machine polishing and is generally done using either a rotary buffer or more recently, large throw dual action orbital machines, along with a wide range of both old school and the most advanced tools, pads and polishes. Mark, the owner of

A Auto Detail Service is nicknamed "The Buff Specialist". With 38+ years of experience, he has extensive knowledge of paint finishes as well as the technology, tools

and products to offer you both the best available and most cost effective

correction available.

Ceramic Pro Rain or Rain X For Glass- These are 2 options for glass protection that make your windows easier to clean and allow the water to simply bead and sheet off the glass!
Wet Sanding has many types of uses. From new paint finishing to remove flaws that occur during the painting process to deep scratch removal. Also here at A Auto Detail

it can be used when restoring a scratched and/or scuffed paint surface to a mirror finish after years of neglect.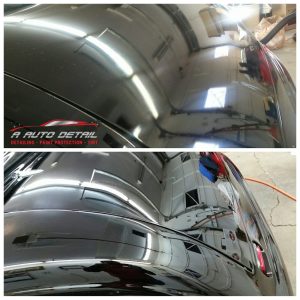 Hard Water Spot Removal From Glass- Here at

A Auto Detail we have a special process that we use to eliminate those pesky spots from your windows and mirrors that window cleaners, steel

wool and even razor blades can't remove. It is an inexpensive way to restore the clear vision you deserve.
Carpet Dyeing - In some cases, your carpet may have stains that even the most stringent cleaning will be unable to remove. Years of ground in dirt or oil, and even more common, colored dyes from, for example, drinks or candy that do not always come out completely. In these cases

you may want to consider dyeing. With new technology

we can now dye the carpet without leaving it looking dyed or feeling stiff like other processes did in the past.
Paintless Dent Removal or PDR is an amazing and highly cost effective way to remove minor dents and dings from hail damage, shopping carts, careless door opening, etc…Our PDR expert craftsman can leave your vehicle looking like it never saw a parking lot or storm. This process is performed by gently massaging the dent from the backside of the panel to its original form. There is no heat, dry ice, or magnesium used. Our talented and experienced technician is capable of removing a dent up to 3 feet in diameter, and still achieve excellent results. And all at a fraction of auto body shop prices.
Leather, Vinyl, Plastic and Fabric - This process is awesome for tears, gouges, and burns. This can also apply to worn, faded, sun-bleached

, and scratched or scuffed surfaces. The size of, the extent of damage, the age and the location of the torn, burned or damaged area will determine whether it can be repaired as well as the cost.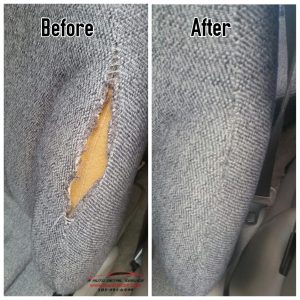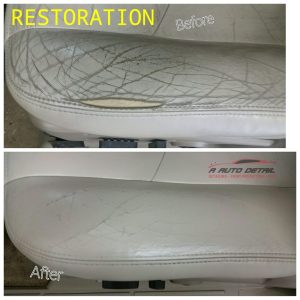 3M Clear Bras and Window Tinting essentially speaks for itself. For those of you unfamiliar with clear bras; it is a process of putting on a clear laminate film alternative to the black naugahyde

bras of the past. It comes in packages that cover the hood and fenders only, to the bumper, headlights, mirrors, door handles, quarter panels, park lights and virtually any vehicle surface that is at risk of rock damage.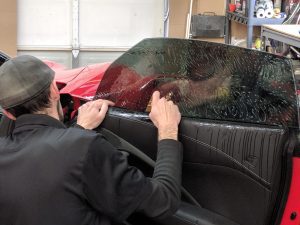 Paint Pin Striping- We have an expert artist with 30+ years of Paint Pin Striping experience. He is an expert at color matching,

and can meet all of your needs for both New Stripes and Designs as well as

repairing existing work that is damaged or worn.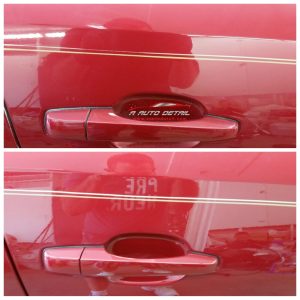 Tape Pin Striping - We at

A Auto Detail can apply a wide variety of colors, width

and patterns. All of our tape

is 3M, but we can use other brands of tapes if you prefer. We are also able to remove most existing taped stripes depending on age and condition.
Molding Replacement - Do you have old and faded moldings? Do you have the fake chrome look moldings that are peeling? In most cases we can replace those with brand new ones from the factory, depending on the age of the vehicle. In some other cases

we can replace them with an

after-martket molding, at a fraction of the cost of factory. We will always be happy to check your options and let you make the decision.